On Monday 18th November, Melita Thomas gave a talk at Hampton Court Palace.
Melita's talk focused on 3 mother and son relationships in the Grey family (including the father of Lady Jane).
'The House of Grey: Friends & Foes of Kings' was published by Amberley in September.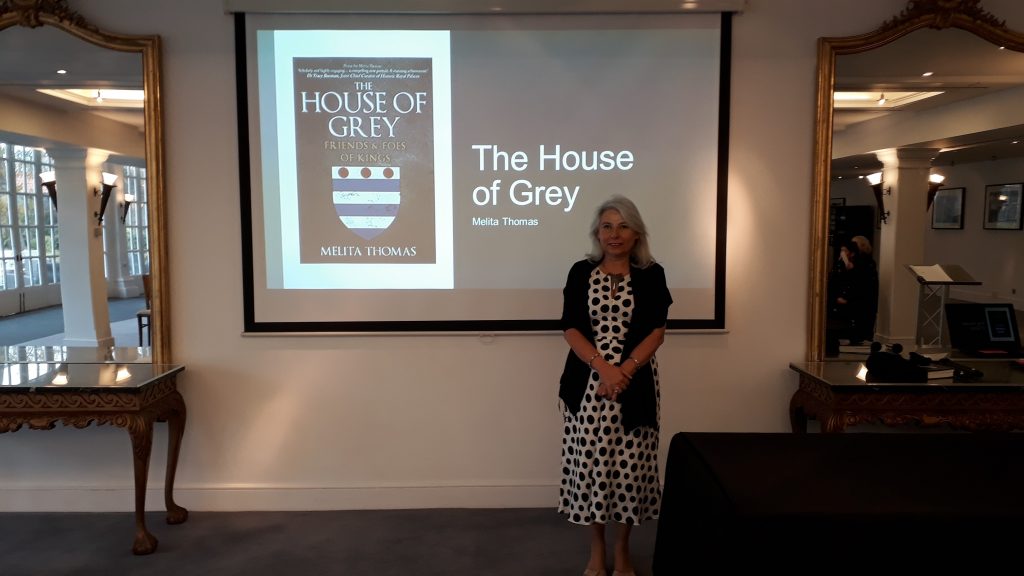 Melita – The Grey family were everywhere. How could they be so important at court and yet be so little known?
Thomas Grey and Elizabeth Woodville
John Grey married Elizabeth Woodville and had 2 sons, Thomas and Richard. The Greys and Woodvilles were Lancaster supporters. After John Grey was killed in battle, Elizabeth went on to marry King Edward IV.
Woodville marriages were used to build an alternative power base to the Nevilles.
Anne Holland was a potential bride for Thomas Grey but she died age 18.
Thomas Grey married Cecily Bonville, who was one of the richest heiressess in the country and step-daughter of Edward IV's ally, William Hastings.
Thomas Grey was a regular jouster and accompanied Edward IV to France.
The events of 1483 show a close relationship between Elizabeth and Thomas.
Thomas would not accept overthrow of Edward V, or his brother Richard's execution and became involved in Buckingham's rebellion. When that failed, he fled abroad to Henry Tudor.
When Elizabeth summoned him back to England, Thomas tried to get home but was compelled to return, Melita argued that Thomas only made a show of returning home.
After Henry VII took the throne, Thomas returned to England and was in regular attendance at court for 2 years.
He was the chief male mourner at his mother's funeral in 1492.
Cecily Bonville and Thomas Grey (2nd)
Little is known about Thomas's childhood. Attended the christenings of Prince Arthur and Prince Henry and later on the marriage of Prince Arthur to Catherine of Aragon.
Cecily was appointed the executor of her husband's will. Thomas (1st) left the following bequests, with the money to come out of the estate:
Bradgate to be completed
Mausoleum at Astley to be completed
8 dowries for daughters
Cecily remarried and her new husband was younger than her son. Thomas and Cecily quarrelled and Henry VII had to intervene. If Cecily died, then her second husband would inherit.
Her daughters wanted their dowries but there was not enough money from the estate. Cecily's second husband died in debt, which depleted her fortune.
In her will, Cecily made efforts to stop her son changing her bequests. Thomas would be cut out of the will if he challenged it.
Thomas tried to carry out the bequests left by both parents.
Margaret Wotton and Henry Grey
Margret Wotton was the daughter of a Woodville connection in Kent. Had 9 children with Thomas, including Henry Grey, born in 1517. Henry spent time in the household of Henry Fitzroy (illegitimate son of Henry VIII).
In 1530 Thomas (2nd) died and left his wife as executor of the estate and guardian of their children.
A marriage was agreed between Henry and Katherine Fitzalan. Included a £4000 fee if the marriage did not go ahead. Henry refused to marry Katherine, so her father, the Earl of Arundel, withdrew from the agreement and took the money.
Henry's wardship/marriage was sold to Charles Brandon at a cost of £2000. Charles then arranged a marriage with his daughter Frances.
Margaret ceased Henry's allowance but Charles did not support him financially and Henry blamed his mother.
The Privy Council told Margaret to pay for Henry and Margaret wrote to Thomas Cromwell worried about her son's behaviour.
In the summer of 1533, Henry married Frances and was declared of age in 1538.
Margaret had to leave Bradgate and moved to Tilty and her sister-in-law's at Ightham Mote.
Henry refused to let Margaret have her belongings and refused to pay his father's bequests. Henry was keen to have the money but not the responsibility!
No proof they were ever reconciled before her death.
Buy 'The House of Grey':