Natalie Grueninger is a researcher, writer and educator, living in Australia with her husband and two children. In 2009 she created On the Tudor Trail, a website dedicated to documenting historic sites and buildings associated with Anne Boleyn and sharing information about the life and times of Henry VIII's second wife. Natalie is fascinated by all aspects of life in Tudor England and has spent many years researching the period.
Her first non-fiction book, co-authored with Sarah Morris, 'In the Footsteps of Anne Boleyn', was published by Amberley Publishing in the UK in September 2013. Book number two in the series, 'In the Footsteps of the Six Wives of Henry VIII', was released in the UK in March 2016.
In 2017, Natalie collaborated with illustrator Kathryn Holeman to create 'Colouring History: The Tudors', a unique and beautifully illustrated colouring book for grown-ups that features images and scenes inspired by the ever-fascinating Tudor dynasty. She also completed 'Discovering Tudor London', which was published in the UK by The History Press in August 2017.
To buy 'Discovering Tudor London'
The Book Depository (Free worldwide shipping)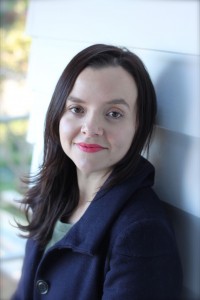 Follow Natalie on Social media
Natalie's website: On the Tudor Trail
Twitter: @OntheTudorTrail
Facebook: On The Tudor Trail
Facebook: Natalie Grueninger – Author & Blogger
Instagram: themosthappy78
Many thanks to Natalie for answering my questions.
Why did you decide to write this book?
As with all my books I decided to write it because it was a book that I wanted to read! Truthfully, that's how all my books, in some way or another, have come about. It was also inspired by the many people who've contacted me over the years, asking for suggestions of places to visit in London, associated with the Tudors. Many people were interested in visiting the 'must-see' sites, while others wanted to discover the lesser-known Tudor delights. I responded to each request individually and quickly realised that this was a book that was beckoning me to write it.
How does 'Discovering Tudor London' follow on from your 'In the Footsteps of…'series?
My particular passion lies in telling the story of the Tudors through the
lens of the castles, palaces, churches and stately homes where their tantalising story unfolded and in taking readers on a journey through the best of Tudor England. So, while one doesn't exactly follow on from the other, they do have these elements in common. The theme of the transporting power of place, is, I think, also an invisible thread that connects all of my work.
What was your criteria for choosing the places featured?
The places needed to be in some way connected to the story of the Tudors, be accessible to the public and have something substantial left to see above ground. I also decided to include a number of galleries and museums that house treasures from this period of history.
Do you have a favourite place?
I have so many! Permit me to digress a little here… I have always been fascinated with the past and with the concept of time and our experience of it. Many of us believe that time is something linear and that the past, present and future are distinct elements that cannot interact. But what if this were not the case? What if this distinction, as Albert Einstein put it, was only 'a stubbornly persistent illusion'. What then?
My favourite places are those where the boundaries blur, where the illusion disappears and where a sense of timelessness pervades. They're places that stir the soul, that inspire and enthral, that set the imagination ablaze and give you butterflies in your tummy. They're sites that have that ineffable, undeniable presence or vibe. So, to answer your question, Hampton Court Palace is a favourite, as is Sutton House in Hackney, St Bartholomew the Great and The London Charterhouse to name but a few. St Etheldreda's Church on Ely Place is beautiful and moving. Upon entering, you're embraced by an ancient silence that's difficult to describe. Spend an hour or so in quiet contemplation within its ancient walls and you won't know what century you're in!
What places did not make the book?
Locations that are not open to the public, for example, St James' Palace and Crosby Hall, and also those places where there is very little or nothing left to see, like Greenwich and Whitehall Palace.
Which buildings that no longer exist would you have liked to include and why?
I would have liked to include Greenwich Palace because it was a favoured royal residence and a number of important events took place there, including the births of Henry VIII, Mary I and Elizabeth I; Anne Boleyn's arrest in 1536 and Henry VIII's marriage to Anne of Cleves in 1540. There is also a wonderful visitor centre – Discover Greenwich – which houses excellent models of the Tudor palace and tiltyard and several artefacts from the original palace uncovered during excavations. Just last year, two rooms were discovered beneath The Old Naval College in Greenwich that once belonged to the Tudor palace – a remarkable find!
If you could journey back in time, which place and event would you choose to visit and witness?
I'd love to see Greenwich Palace in its heyday! However, what I'd most love is to travel back to Hever Castle in Kent, to a time when Mary, Anne and George were carefree children, far from the court machinations and power struggles that would eventually destroy them. I'd like to bear witness to a quiet, ordinary moment in their young lives.