Last month, Bradgate Park Trust held a series of events to commemorate the 'Queen of Bradgate Park.'
I was honoured to deliver the eulogy at the Remembrance and Rose Petal Service for Lady Jane at Bradgate Chapel on Sunday 16th July.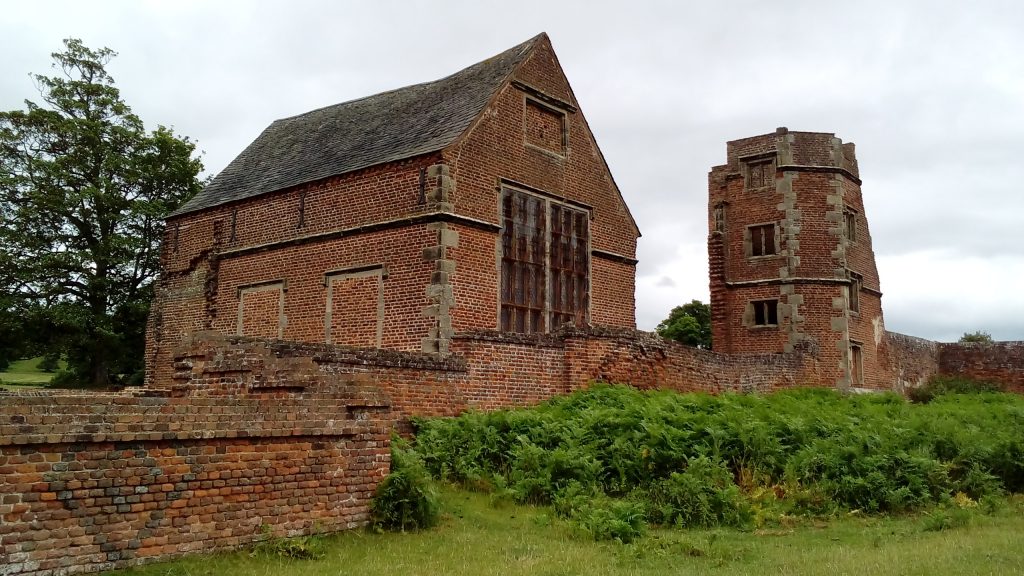 Eulogy
These three sentences are attributed to Lady Jane and were supposedly written in the final days of her life. Originally in Greek, Latin and English, they read:
'If Justice is done with my body, my soul will find mercy in God.
Death will give pain to my body for its sins, but the soul will be justified before God.
If my faults deserve punishment, my youth at least, and my imprudence were worthy of excuse; God and posterity will show me favour.' (1)
If Jane did write these, I think our being gathered here today for this service, the commemorative events at Bradgate and the continuing interest in Jane's life, show that her wishful hope has been granted.
But how has Jane been remembered and how should we remember her?
Lady Jane Grey is known today as the 'nine-day queen' for her brief reign in 1553. Jane was the great-granddaughter of Henry VII and Elizabeth of York. Her mother, Frances, was the eldest daughter of Mary Tudor (a former Queen consort of France) and her second husband, Charles Brandon. In 1533 Frances married Henry Grey (who, like his wife, was a great-grandchild of Edward IV's Queen, Elizabeth Woodville). The marriage produced 3 surviving daughters, Jane, Katherine and Mary.
Under the terms of her great uncle Henry VIII's will, Jane was fourth in line to the throne after the King's own children (Edward, Mary and Elizabeth). However, the dying Edward VI tried to stop his Catholic half-sister Mary, from inheriting. Using his 'Devise for the Succession', Edward decreed that the throne should go to the 'male heirs of the Lady Jane'. But there was not enough time for Jane to produce an heir, as she was married to Guildford Dudley in May 1553 and Edward died on 6th July. So Edward made a last minute change and willed the crown to Jane herself. Nor was there time for the change to be made into law by Parliament and when the succession of 'Queen Jane' was announced, Mary fought for her throne.
With John Dudley, Duke of Northumberland, leading the armed forces to capture Mary, Jane's father was not a strong enough influence on the remaining members of the Privy Council. On the 19th of July, the Council declared for Mary and the reign of 'Queen Jane' was over. Jane was held prisoner in the Tower of London and was tried for treason on 13th of November.
Although Jane was found guilty and sentenced to death, Queen Mary intended to reprieve her but Henry Grey's involvement in the Wyatt Rebellion in January/February 1554, led Mary to sign Jane's execution warrant. On 12th of February, Jane and her husband, Guildford were executed. Guildford died on the public scaffold on Tower Hill, while Jane's execution took place privately, within the walls of the Tower itself. Both are commemorated in the chapel there.
Over the centuries traditions and myths have built up around Jane and have been taken as fact. These traditions and myths include the following:
• Jane was born here at Bradgate in October 1537 (the same month as the future Edward VI).
• Jane had an unhappy relationship with her mother and that her parents forced her to marry Guildford Dudley, whom she detested.
• Although Jane protested that the 'crown was not her right', she was made to accept the throne.
• The arrival of Queen Jane at the Tower of London on 10th July 1553 was described in great detail by an eye-witness, Baptista Spinola.
• Throughout the following nine days of her reign, Jane was the helpless victim of those around her, before being imprisoned and later executed on the orders of Queen Mary.
Jane has been portrayed as the tragic victim of first her parents, then John Dudley and finally Queen Mary. Thankfully this view of Jane and her life is changing.
This is mainly due to the work of leading historians, Leanda de Lisle, Eric Ives and Stephan Edwards. The latest, very well received biography of Jane, published last year, 'Crown of Blood' was the debut work of historian, Nicola Tallis.
Each of these historians have introduced new theories and evidence about Jane and the way we should remember her.
De Lisle's triple biography of Jane and her sisters, was the first to contest the traditions and myths surrounding Jane. 'The Sisters Who Would Be Queen: The Tragedy of Mary, Katherine & Lady Jane Grey' did not portray Jane as a helpless pawn and re-evaluated her relationship with her mother, Frances. De Lisle also put forward the theory that the famous description of Jane, the so called 'Spinola' letter, is in fact, a fake.
'Lady Jane Grey; A Tudor Mystery' by Eric Ives contains detailed analysis of Jane's writings, an in-depth look at the events of Jane's reign, and puts forward the theory that Mary was the usurper.
'Crown of Blood: The Deadly Inheritance of Lady Jane Grey' by Nicola Tallis was the first biography to include certain documentation relating to the trial of Jane and Guildford at the London Guildhall.
Stephan Edwards has proven beyond doubt that Jane was not born in October 1537 but most probably the previous year.
In his 2015 book, 'A Queen of a New Invention: Portraits of Lady Jane Grey Dudley: England's Nine Days Queen', Edwards carried out a detailed study of the majority of the possible portraits of Jane.
In 2013, Edwards discovered two lost letters that mention Jane, adding to our knowledge about Jane's wedding, her appearance and events at the beginning and end of her reign.
The only known portrait of Jane by 'Master John' was re-identified as Queen Katherine Parr in 1996. Then in 2010, the Spinola letter was argued to be a fake. Although possible portraits of Jane, 'the 'Teerlinc miniature' and the 'Streatham' portrait, were brought to national attention by the press in 2007 and 2006, no contemporary portrait of Jane has been found, yet.
So, as you can see, the last 10 years have been an exciting time to be interested in Jane.
The truth is, we do not know when or where exactly Jane was born, we don't know what she looked like, we don't know the truth about her relationship with her parents, what her marriage was like or what exactly happened during her short reign.
Even if Jane was not born here at Bradgate, she spent much of her childhood here. Thanks to her father's patronage of religious scholars; Jane came into contact with some of the greatest Protestant minds in Europe.
So, although there is a lot we don't know about Jane, one thing we can be sure of is her religious faith.
This faith is clearly shown in Jane's writings. It sustained her throughout her life and, during her final days, allowed her to resist the temptation to convert to Catholicism. The foundations of her faith were formed not just during Jane's time with Queen Katherine Parr but here at Bradgate.
Ives describes what Jane wrote during her imprisonment in the Tower, as being written 'from passion and conviction, bringing us closer to the real girl than anything bar her scaffold speech.' (2)
Also included in this description are Jane's farewell letter to her sister, Katherine, a farewell message to the Lieutenant of the Tower, her debate with Dr Feckenham (Queen Mary's chaplain) and a prayer.
Whereas one of these was written in Jane's own hand in her prayer book, others according to Ives are 'known only in printed copies.' (3) In his analysis, Ives writes that thanks to these documents being mentioned in contemporary letters, 'the authenticity of the Feckenham…(piece), and by association, the Katherine Grey letter and the scaffold speech is beyond question.' (4)
Jane's letter to her sister, Feckenham debate and scaffold speech were included in 'An Epistle of the Ladye Jane, a righte virtuous woman' which was published in 1554 and in 'Here in this booke ye have a godly Epistle made by a faithful Christian', which was published either in 1554 or 1555. (5)
Ives writes that Jane's prayer gives us 'evidence of (her) state of mind during her imprisonment'. (6) Historians have debated whether it was written in December 1553 or February 1554. The prayer was not published at the same time as Jane's other writings but according to Ives, was first included, 'in the… (1563) edition of Acts and Monuments', better known as Foxe's Book of Martyrs. (7)
I thought it would be a fitting tribute to look at Jane's writings.
Firstly an extract from her prayer:
'Oh Lord, thou God and father of my life! Hear me, poor and desolate woman, which flyeth unto thee only, in all troubles and miseries.
…Suffer me not to be tempted above my power, but either be thou a deliverer unto me out of this great misery, or else give me grace patiently to bear thy heavy hand and sharp correction.
…How long will thou be absent? – for ever? Oh Lord! Hast thou forgotten to be gracious, and hast thou shut up thy loving kindness in displeasure? Wilt thou be no more entreated? Is thy mercy clear gone for ever, and thy promise come utterly to an end for evermore? Why dost they make so long tarrying? Shall I despair of thy mercy?
…Only, in the mean time, arm me, I beseech thee, with thy armour, that I may stand fast…' (8)
Jane's plea to be able to stand firm was answered when during her religious debate with Dr Feckenham, she was able to resist his efforts to convert her to Catholicism. Dr Feckenham had been sent by Queen Mary to try and save Jane's soul.
Both de Lisle and Ives agree that Jane wanted her dialogue with Feckenham to be published. (9) Ives writes that the printers of 'An Epistle ' and 'Here in this Booke' claim to have printed 'from a copy which was, or was taken from Jane's own autograph.' (10)
This is a small part of their debate:
Feckenham: Why, what do you receive in that bread? Do you not receive the very body and blood of Christ?
Jane: No, surely, I do not believe so. I think that at that supper I receive neither flesh nor blood, but only bread and wine.
Feckenham: Why, does not Christ speake these words: 'Take, eat, this is my body? Require we any plainer words? Does not he say, that it is his body?
Jane: I grant he saeith so, and so he saieth: 'I am the vine, I am the doore but yet he is never…the vine nor doore. Does not St Paul say, that he calleth those things that are not, as though they were? (11)
In her farewell letter to her sister Katherine, Jane wrote:
'I have sent you, my dear sister Katherine, a book, which although it be not outwardly trimmed with gold, or the curious embroidery of the artfulest needles, yet inwardly it is more worth than all the precious mines which the vast world can boast of: it is the book, my only best, and best loved sister, of the law of the Lord; it is the Testament and last will, which he bequeathed unto us wretches and wretched sinners, which shall lead you to the path of eternal joy: and if you with a good mind read it, and with an earnest desire follow it, no doubt it shall bring you to an immortal and everlasting life: it will teach you to live, and learn you to die…
…Now as touching my death, rejoice as I do, my dearest sister, that I shall be delivered of this corruption, and put on incorruption: for I am assured that I shall, for losing of a mortal life, win one that is immortal, joyful, and everlasting…' (12)
In the final moments of her life, Jane spoke the following words upon the scaffold:
'Wherefore good Christian people, I shall desire you all to pray with me, and for me, while I am now alive; that God for his goodness will forgive me my sins. And I pray you all to bear me witness, that I here dye a true Christian woman, and that I truste to be saved by the blood of Jesus Christ, and by none other means…' (13)
Being here this evening and listening to the same service as Jane would have heard, is a moving and fitting tribute to a brave and remarkable young woman and this is how Jane should be remembered.
I will let Jane have the final words, from the farewell message to Sir John Brydges in her prayer book:
'…for as the Precher sayeth there is a tyme to be borne and a tyme to dye and the daye of deathe is better than the day of oure birthe. Youres as the lorde knoweth, as a frende, Jane Duddeley.' (14)
Sources
1. Ives, E. (2009) Lady Jane Grey: A Tudor Mystery, Wiley-Blackwell, p.273-4
2. Ibid, p.253
3. Ibid, p.17
4. Ibid, p.21
5. Ibid, p.21
6. Ibid, p.259
7. Ibid, p.23
8. Nicolas, N.H Harding, The Literary Remains of Lady Jane Grey: With a Memoir of Her Life, Triphook & Lepard, p.49-51
9. De Lisle, L. (2010) The Sisters Who Would Be Queen: The Tragedy of Mary, Katherine and Lady Jane Grey, HarperPress, p.146-7.
Ives, E. (2009) Lady Jane Grey: A Tudor Mystery, Wiley-Blackwell, p.269
10. Ives, E. (2009) Lady Jane Grey: A Tudor Mystery, Wiley-Blackwell, p.21-22
11. The Unabridged Acts and Monuments Online or TAMO (HRI Online Publications, Sheffield, 2011). Available from: http//www.johnfoxe.org [Accessed: 14.07.17]
12. Nicolas, N.H Harding, The Literary Remains of Lady Jane Grey: With a Memoir of Her Life, Triphook & Lepard, p.41-43
13. Oldys, W. (1809) The Harleian Miscellany. Volume III, John White & John Murray, p.119. [Accessed via Google Books 30 December 2014]
14. Harley MS 2342, British Library website: http://www.bl.uk/manuscripts/FullDisplay.aspx?ref=Harley_MS_2342 [Accessed: 14.07.2017]