Gillian Bagwell is the author of 'The Darling Strumpet' and 'The September Queen.' Her latest historical novel 'Venus in Winter' about Bess of Hardwick was published in July 2013.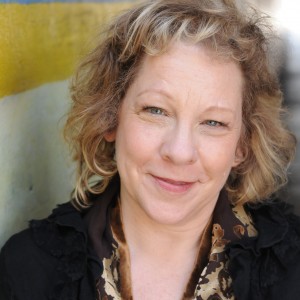 Follow Gillian Bagwell on Social Media:
Gillian's website: www.gillianbagwell.com
Twitter: @GillianBagwell
Facebook: Gillian Bagwell
Many thanks to Gillian for answering my questions.
Why did you choose to write about Bess of Hardwick?
I enjoy finding historical characters who had interesting lives but who haven't been written about as much as the better known figures such as the famous queens and mistresses who are the subjects of so much historical fiction. Bess of Hardwick rose from a childhood of genteel poverty to become the most wealthy and powerful woman in England after Queen Elizabeth, she knew just about everyone of significance in England during the second half of the sixteenth century, and she was close to many historic events, yet she's been neglected as the subject of novels, and I enjoyed the chance to bring her life to the page – especially her early life, which is not as well documented as her later years.
Bess witnesses many dramatic events in the novel. Which do you think affected her most?
Bess lost many friends and acquaintances to the scaffold, which must surely have impressed upon her the danger of political plotting and intrigue, and also simply the danger of being on the wrong side when the wind changed. It is documented that she was close to Jane Grey, whom she knew from Jane's childhood, as she served as a lady in waiting to Jane's mother. She kept a portrait of Jane near her all her life, and I think that Jane's tragic downfall and death must have affected her deeply.
Why do you only cover Bess's first three marriages and will there by a sequel?
Bess had a very eventful life and lived to be 80 years old, and I didn't think I could possibly do justice to her whole story in one novel. Her fourth marriage was the longest and also the most unhappy, partly because of the enormous strain caused by Bess and her husband ending up with Mary Queen of Scots as a houseguest/prisoner for almost 17 years, which is a full story in itself. During the second half of her life she also renovated what became known as Old Hardwick Hall, built the new Hardwick Hall, married off her children in a series of advantageous matches, planned and maneuvered for years for her granddaughter Arbella Stuart to succeed Elizabeth on the throne, spent much time at the court of Queen Elizabeth and knew well such people as Robert Devereux, the Earl of Essex. All of that is more than enough for a second novel! I hope to write the second part of Bess's life one day, but it's not next on the agenda.
Which relationship out of the three husbands did you find the most difficult to portray?
Each had their own challenges. Very little is known about her first husband other than the general circumstances of their meeting, that they married very young, that he died soon after, and that she had to fight for her inheritance, so I had to flesh out his character and their relationship. I think readers of today might find Bess's second marriage, to a much older man, not in keeping with modern ideas of what a marriage should be. I wanted to create a picture of a happy relationship without falsely romanticizing what was probably not a passionate relationship. I enjoyed writing about Will St. Loe, her third husband, but it was hard to follow fact and have him die so soon.
Which character apart from Bess did you enjoy writing about the most?
That's a tough question! Of course Jane Grey is very appealing and fascinating, but her story is so sad. I had fun learning and writing about Bess's friend Elisabeth Brooke, who married William Parr and became the Marchioness of Northampton. She was a spunky and determined character and was involved with or close to many events and people of historical significance.
I enjoyed the level of detail in the novel, e.g. how Bess received the portrait of Lady Jane Grey that she kept on the table beside her bed as a wedding gift from Jane. Do you have any favourite details that you included in the novel?
I wasn't able to have access to much primary source material, like letters, but I enjoyed the letters between her and her Will St. Loe that are quoted in Mary Lovell's biography of Bess, particularly the one in which he calls her the "surveyor of all my works." And I loved reading about all the gifts he brought back to Chatsworth from London, including big knockers for the front gate, and included that in a scene.
How important were the Grey family to Bess?
They were very important to her. Bess's service in the Grey household was surely how she met her second husband, and that marriage put her on the road to wealth and power. She must have learned a lot from Frances Grey about how to be a lady, how to run a great household, how to interact with powerful people. Yet her relationship with the family was tinged with tragedy. Frances Grey died at a not very advanced age, Henry Grey died on the scaffold, and all three of the Grey girls died young and in terribly sad circumstances, though Bess did what she could to help Katherine and Mary.
The story includes a meeting between Bess and Lady Jane Dudley at the Tower of London. There is no record of Jane receiving visitors whilst a prisoner in the Tower. What was your purpose for including it? *
I don't think I've read that Jane Grey didn't have any visitors. It was common for prisoners in the Tower to have visitors, and since Jane was comfortably was housed in the warder's lodgings, where noble prisoners stayed, it seemed likely to me that she would have some freedom. She was allowed to walk on the grounds within the Tower walls. But whether it happened or not, I wanted Bess to have the opportunity to see Jane. Part of the reason is that it's so easy to write historical fiction as if the outcome is known, but for a long time it seemed that Jane would not be executed, and it was important to me to have it seem as if she might live. Having Bess visit Jane allowed her to keep hope alive, and also allowed her—and so my readers—to understand Jane's extremely strong religious beliefs and opposition to Catholicism, and how those may have contributed to Mary feeling that she had no choice but to execute her.
* I was wrong to assume that Jane was not allowed vistiors whilst imprisoned in the Tower of London. Eric Ives wrote in 'Lady Jane Grey: A Tudor Mystery' that 'She did have occasional visitors.' (p.253, Ives)