Salisbury Cathedral in Wiltshire is the final resting place of Lady Katherine Grey, younger sister of Lady Jane.
The foundation stones for Salisbury were laid in 1220 and 'the church was consecrated in 1258.' (1) According to the guidebook, 'with its soaring pointed arches and slender columns, Salisbury is unique in being built almost entirely in one architectural style – Early English Gothic.' (2)
Katherine Grey died in 1568 and was buried in Suffolk. Her husband, the Earl of Hertford, Edward Seymour died in 1621 and Leanda de Lisle writes that;
'William, as his only surviving male heir, inherited the title and promptly had his grandmother, Katherine Grey, disinterred from her grave in Yoxford, Suffolk, and brought to Salisbury Cathedral to be buried with her husband. Their magnificent tomb still stands in the easterly corner of the south choir aisle. The long-legged and refined figure of Hertford lies on his sarcophagus with Katherine above him, as a mark of her royal status. The inscription, in Latin, celebrates the lovers, reunited at last:
Incomparable Consorts
Who, experienced in the vicissitudes of changing fortune
At length, in the concord which marked their lives,
Here rest together.' (3)
The guide book says the following about the tomb:
'The very large decorative marble tomb is the Hertford tomb. You will notice that unusually Lady Catherine Grey is positioned higher than her husband, Edward Seymour, because of her family status. Lady Catherine's sister, Lady Jane Grey, was proclaimed Queen of England for nine days before being executed in 1554, aged 17.' (4)
Salisbury Cathedral is also the burial place of Elizabeth I's lady in waiting, Helena Snachenberg and her husband.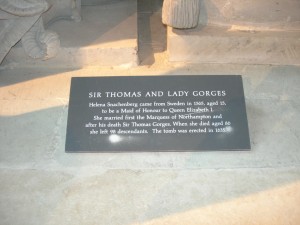 Sources
Ives, E. (2009) Lady Jane Grey: A Tudor Mystery, Wiley-Blackwell, p.183
1.Salisbury Cathedral: A Pocket Tour, Reef Publishing, p.1
2.ibid.
3. De Lisle, L. (2010) The Sisters Who Would Be Queen: The Tragedy of Mary, Katherine and Lady Jane Grey, HarperPress, p.302
4. Salisbury Cathedral: A Pocket Tour, Reef Publishing, p.9