Sarah Gristwood is the author of 'Arbella: England's Lost Queen', 'Elizabeth and Leicester' and 'Blood Sisters: The Women Behind the Wars of the Roses.'
Sarah's latest book, 'Game of Queens: The Women Who Made Sixteenth Century Europe' was published in October 2016.
To buy in the UK: Amazon.co.uk
To buy in the US: Amazon.com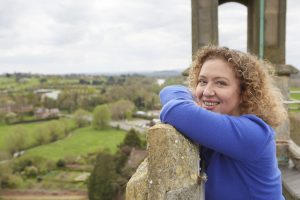 Follow Sarah Gristwood on Social Media:
Twitter: @sarahgristwood
Website: Sarah Gristwood
Many thanks to Sarah for answering my questions.
Why did you choose this subject for your book?
The first thing that caught my attention was the prominent part that women played on either side of the religious divides that racked the sixteenth century. And then, following the story through the generation, I was struck by the connections between them – not only as blood relations, mothers and daughters, but mentors and protégés. Katherine of Aragon linked not only to her powerful mother Isabella of Castile, but to her sisters-in-law Margaret Tudor and Margaret of Austria. Margaret of Austria, ironically, then linked also to Anne Boleyn . . . But I think the real crunch for me came when I realised just how strong were the ties between the Tudor and Stuart women, who we all know almost too well, and those of the European courts – with whom, because our teaching is so wedded to the English-speaking world, most of us are largely unfamiliar.
What does your book add to previous works covering these women?
It's that thing about connections which really is the key. When you're painting as broad a picture as I am – sixteen protagonists, five territories, and a century's worth of events! – you're not going to be working in the detail other, more academic, work has done. But looking at that broad picture, you start to see the same patterns repeated though the century. And maybe, even more interestingly, you start to wonder whether the same patterns have continued – even up to our own day.
Which woman do you admire the most?
That's easy – Margaret of Austria! Partly just because she didn't blow it, as did so many of the others. Partly because, from a modern perspective, I find it easier to admire not only her independence and good humour but her pragmatism than I do, say, the intolerant religious beliefs held by some. But it is also quite extraordinarily impressive how she not only survived three marriages by her early thirties, and governed the Netherlands for a quarter of a century, but made her way to the very heart of European politics. As her former father-in-law Ferdinand of Aragon once put it, Madame Margaret 'is the person upon whom all depends'.
How significant was 'the Ladies' Peace'?
The so-called Ladies' Peace, negotiated between Margaret of Austria and Louise of Savoy in 1529 brought a temporary halt to the long wars between the Habsburgs and France. Margaret was negotiating on behalf of her nephew, the Holy Roman Emperor Charles V, Louise on behalf of her son Francois I, and letters between the two women really do show them suggesting that they're the ones who could get the business sorted, if their menfolk would just stop posturing and get out of the way! Inevitably, hostilities between the two powers did break out again, but what I think is significant is this: that the idea of a peace worked out between women – the idea that women may be natural peacemakers – recurred again and again through the century, and beyond.
'You should have eyes to notice everything yet to see nothing, ears to hear everything yet to know nothing, and a tongue to answer everyone yet to say nothing prejudicial to anyone' (p.336) Who learned the lessons of Anne de Beaujeu's advice and who did not?
The prime example of a woman who *didn't* learn the lesson has to be Anne Boleyn – for all that she had been raised largely in France, and at the court where Anne de Beaujeu had recently held sway. For all her brains, Anne Boleyn failed to see where danger lay – and that it lay in *not* minding her tongue! In a more general way, both Margaret Tudor and her granddaughter Mary Queen of Scots likewise failed to learn the lessons of discretion; whereas Anne Boleyn's daughter Elizabeth I clearly knew how to keep her head down, during her difficult years as a princess.
You write, 'As the Genoese merchant Baptista Spinola reported: 'the hearts of the people are with Mary, the Spanish Queen's daughter.' While the people did support Mary over Jane, it has been suggested that the actual letter written by Baptista Spinola is a fake. Do you have an opinion about this?
Many sources and documents are open to query, and it's a judgement call each time. But in this case, other evidence suggests that the portrait of English opinion is a valid one,
What surprised you most researching this book?
Two things, really. One was the 'modernity', as one might see it, of some of the opinions these women expressed, concerning their gender and their place in the world. The other is just how damaged a personality some of them carried – Marguerite of Navarre, say. Obsesses by her brother (and perhaps sexually assaulted by one of his cronies), convinced her mother didn't value her as highly and finding it difficult to deal with her own daughter, in turn. Perhaps that's actually the same sort of surprise as the first point – although these women held beliefs and attitudes very different to our own, you can also see them reacting to trauma in a familiar way.
You suggest that the 'sisterhood of queens' died on the day of Mary Queen of Scots' execution. Did it exist and was it ever really able to overcome the obstacles of religion and politics?
There really is evidence that these women were conscious of their bonds as powerful women, and were prepared to call on those connections when necessary. They managed to maintain those links in the face of political divides – many princesses, after all, were used to divided loyalties, married off as they so often were to cement an alliance with their country's enemy. But it's all too true that – as the Reformation carved a bloody rift across Europe – religion would prove to be another story . . .