'One last clandestine wedding. A last death in the Tower of London…' (1)
Today marks the 400th anniversary of the death of Arbella Stuart in the Tower of London.
As the great- great- granddaughter of Henry VII, Arbella had once been viewed as a possible heir to Elizabeth I. However, it was her marriage to William Seymour (the grandson of Katherine Grey) without permission that caused her to be imprisoned by her cousin, James I. The couple had managed a daring escape (Arbella from house arrest and William from the Tower) and Arbella had almost reached France, when she was recaptured and taken to the Tower in June 1611.
But Arbella's links to the Grey family, started long before her birth. Her maternal grandmother Bess of Hardwick, was a lady in waiting to Frances Grey (mother of Jane, Katherine and Mary) and the daughter of Mary Tudor, young sister of Henry VIII. The wedding between Bess and her second husband (Sir William Cavendish) had taken place in at Bradgate Park, the home of the Greys, in 1547. Also 'at least four members of the Grey family…played godparent to their children. (2)
Bess was also known to have kept a portrait of Lady Jane Grey. It was mentioned in the 1566 Chatsworth inventory.
'In My Lady's Chamber: … 3 tables, on which (pictures) of; Sir William Cavendish, my master (Sir William St Loe,) another of my lady (Bess), and another of my Lady Jane (Grey).'
The birth of Arbella was the result of the match making plans of her two grandmothers. In November 1574, as Margaret Douglas (niece to Henry VIII and daughter from Margaret Tudor's second marriage) and her son Charles travelled to her northern estates, they were invited to break their journey at Rufford Abbey, where Bess and her daughter, Elizabeth were staying. Upon arrival, Margaret fell ill and 'with Bess in close attendance', this left 'the young people to each other's company.'
Charles and Elizabeth were married soon after and Arbella was born in the autumn of the following year. However, her father died in 1576 and her mother in 1582. Arbella was then raised by her grandmother, Bess.
As a potential heir to the throne and possible focus of plots, Arbella rarely visited court. De Lisle writes 'living at Hardwick hall in Derbyshire…Arbella was trapped in eternal childhood, with no prospect of a husband, and increasingly obsessed with the stories her grandmother had told her of her parents' secret marriage and the marriage of her mother's godparent, Katherine Grey.' (5)
It was to one of Katherine Grey's grandsons that Arbella now turned, to plan her escape from Hardwick Hall. She sent one of her grandmother's servants with a message to the Earl of Hertford, proposing that he send his eldest grandson, Edward to Hardwick Hall. Instructing that Edward should bring 'some picture or handwriting of the Lady Jane Grey, whose hand I know' (6) as identification. When the servant arrived at the home of the Earl of Hertford on 30 December 1602, the Earl informed the Privy Council and Arbella's plan came to nothing.
Once James I inherited the throne, Arbella was welcomed at court. Here she met William Seymour (younger brother of the Edward she had tried to marry), and in 1610 she married him without James's permission. Sarah Gristwood (in her biography of Arbella 'England's Lost Queen') describes how 'on 2 February 1610, in the palace of Whitehall, William Seymour went to the chamber of Arbella Stuart and shared with her some sort of betrothal ceremony. (7)
James quickly learned of their marriage and separated them. As Sarah Gristwood writes, James 'had spent much of his life under the shadow of a contested succession, and had indeed some reason to fear the bogey of a child from this union – a child who had the blood of both Margaret and Mary Tudor.'(8) Arbella was placed under house arrest and William was sent to the Tower.
Both managed to escape from their prisons in 1611 but William missed their rendezvous and Arbella was forced to continue without him. William arrived safely in France but Arbella was recaptured and sent to the Tower in her husband's place. With no hope of release, it is thought that Arbella starved herself and she died on 25th September 1615.
Now a widower, William returned to England and later married again. He named one of his daughters Arbella.
---
Hardwick Hall has been running an exhibition about Arbella to commemorate the anniversary of her death.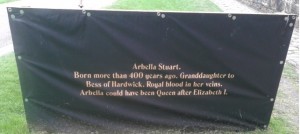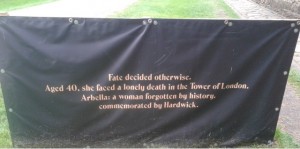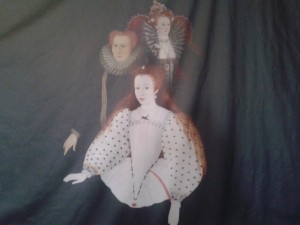 Sources
1. Ashdown, D. M. (2000) Tudor Cousins: Rivals for the Throne, Sutton Publishing Ltd, p.221
2. De Lisle, L (2013) Tudor: The Family Story, Chatto & Windus, p.349
3. Lovell, M.S. (2009) Bess of Hardwick: First Lady of Chatsworth, Abacus, p.193
4. Gristwood, S. (2004) Arbella: England's Lost Queen, Bantam Books, p.31
5. De Lisle, L. (2010) The Sisters Who Would Be Queen: The Tragedy of Mary, Katherine and Lady Jane Grey, HarperPress, p.297
6. Gristwood, S. (2004) Arbella: England's Lost Queen, Bantam Books, p.188
7. Ibid p.332
8. Ibid p. 351