12th January 2017 – Young and Damned and Fair: The Life and Tragedy of Catherine Howard at the Court of Henry VIII by Gareth Russell
'England July 1540: it is one of the hottest summers on record and the court of Henry VIII is embroiled, once again, in political scandal. Anne Cleves is out. Thomas Cromwell is to be executed and, in the countryside, an aristocratic teenager named Catherine Howard prepares to become fifth wife to the increasingly unpredictable monarch…
In the five centuries since her death, Catherine Howard has been dismissed as 'a wanton', 'inconsequential' or a naïve victim of her ambitious family, but the story of her rise and fall offers not only a terrifying and compelling story of an attractive, vivacious young woman thrown onto the shores of history thanks to a king's infatuation, but an intense portrait of Tudor monarchy in microcosm: how royal favour was won, granted, exercised, displayed, celebrated and, at last, betrayed and lost. The story of Catherine Howard is both a very dark fairy tale and a gripping political scandal.
Born into the nobility and married into the royal family, during her short life Catherine was almost never alone. Attended every waking hour by servants or companions, secrets were impossible to keep. With his research focus on Catherine's household, Gareth Russell has written a narrative that unfurls as if in real-time to explain how the queen's career ended with one of the great scandals of Henry VIII's reign.
More than a traditional biography, this is a very human tale of some terrible decisions made by a young woman, and of complex individuals attempting to survive in a dangerous hothouse where the odds were stacked against nearly all of them. By illuminating Catherine's entwined upstairs/downstairs worlds, and bringing the reader into her daily milieu, the author re-tells her story in an exciting and engaging way that has surprisingly modern resonances and offers a fresh perspective on Henry's fifth wife.
YOUNG AND DAMNED AND FAIR is a riveting account of Catherine Howard's tragic marriage to one of history's most powerful rulers. It is a grand tale of the Henrician court in its twilight, a glittering but pernicious sunset during which the king's unstable behaviour and his courtiers' labyrinthine deceptions proved fatal to many, not just to Catherine Howard.'
Further details – Amazon.co.uk
---
15th January 2017 – Isabella of France: The Rebel Queen (paperback) by Kathryn Warner
'Isabella of France married Edward II in January 1308, and afterwards became one of the most notorious women in English history. In 1325, she was sent to her homeland to negotiate a peace settlement between her husband and her brother Charles IV, king of France. She refused to return. Instead, she began a relationship with her husband's deadliest enemy, the English baron Roger Mortimer. With the king's son and heir, the future Edward III, under their control, the pair led an invasion of England which ultimately resulted in Edward II's forced abdication in January 1327. Isabella and Mortimer ruled England during Edward III's minority until he overthrew them in October 1330.
A rebel against her own husband and king, and regent for her son, Isabella was a powerful, capable and intelligent woman. She forced the first ever abdication of a king in England, and thus changed the course of English history. Examining Isabella's life with particular focus on her revolutionary actions in the 1320s, this book corrects the many myths surrounding her and provides a vivid account of this most fascinating and influential of women.'
Further details – Amazon.co.uk
---
9th February 2017 – The Girl in the Glass Tower (paperback) by Elizabeth Fremantle
'Tap. Tap. Tap on the window.
Something, someone wanting to be heard. Waiting to be free.
Tudor England. The word treason is on everyone's lips. Arbella Stuart, niece to Mary, Queen of Scots and presumed successor to Elizabeth I, has spent her youth behind the towering windows of Hardwick Hall. As presumed successor to the throne, her isolation should mean protection – but those close to the crown are never safe.
Aemilia Lanyer – writer and poet – enjoys an independence denied to Arbella. Their paths should never cross. But when Arbella enlists Aemilia's help in a bid for freedom, she risks more than her own future. Ensnared in another woman's desperate schemes, Aemilia must tread carefully or share her terrible fate . . .
The Girl in the Glass Tower brilliantly explores what it means to be born a woman in a man's world, where destiny is strictly controlled and the smallest choices may save – or destroy – us.'
Further details – Amazon.co.uk
---
9th February 2017 – Isabella of Castile: Europe's First Great Queen (paperback) by Giles Tremlett
' In 1474, a twenty-three year old woman ascended the throne of Castile, the largest and strongest kingdom in Spain. Ahead of her lay the considerable challenge not only of being a young, female ruler in an overwhelmingly male-dominated world, but also of reforming a major European kingdom that was riddled with crime, corruption, and violent political factionism. Her marriage to Ferdinand of Aragon was crucial to her success, bringing together as it did two kingdoms, but it was a royal partnership in which Isabella more than held her own. Her pivotal reign was long and transformative, uniting Spain and setting the stage for its golden era of global dominance. For by the time of her death in 1504, Isabella had laid the foundations not just of modern Spain, but of one of the world's greatest empires. Acclaimed historian Giles Tremlett chronicles the life of Isabella of Castile as she led her country out of the murky middle ages and harnessed the newest ideas and tools of the early Renaissance to turn her ill-disciplined, quarrelsome nation into a sharper, modern state with a powerful, clear-minded, and ambitious monarch at its centre. With authority, insight and flair he relates the story of this legendary, if controversial, first initiate in a small club of great European queens that includes Elizabeth I of England, Russia's Catherine the Great, and Britain's Queen Victoria.'
Further details – Amazon.co.uk
---
9th February – So Great a Prince: England and the Accession of Henry VIII (paperback) by Lauren Johnson
'The King is dead: long live the King. In 1509, Henry VII was succeeded by his son Henry VIII, second monarch of the house of Tudor. But this is not the familiar Tudor world of Protestantism and playwrights. Decades before the Reformation, ancient traditions persist: boy bishops, pilgrimage, Corpus Christi pageants, the jewel-decked shrine at Canterbury.
So Great a Prince offers a fascinating glimpse of a country and people that at first appear alien – in calendar and clothing, in counting the hours by bell toll – but which on closer examination are recognisably and understandably human. Lauren Johnson tells the story of 1509 not just from the perspective of king and court, but of merchant and ploughman; apprentice and laundress; husbandman and foreign worker. She looks at these early Tudor lives through the rhythms of the ritual year, juxtaposing political events in Westminster and the palaces of southeast England with the liturgical and agricultural events that punctuated the year for the ordinary people of England.'
---
9th March 2017 – The Private Lives of the Tudors: Uncovering the Secrets of Britain's Greatest Dynasty (paperback) by Tracy Borman
'I do not live in a corner. A thousand eyes see all I do.' Elizabeth I
The Tudor monarchs were constantly surrounded by an army of attendants, courtiers and ministers. Even in their most private moments, they were accompanied by a servant specifically appointed for the task. A groom of the stool would stand patiently by as Henry VIII performed his daily purges, and when Elizabeth I retired for the evening, one of her female servants would sleep at the end of her bed.
These attendants knew the truth behind the glamorous exterior. They saw the tears shed by Henry VII upon the death of his son Arthur. They knew the tragic secret behind 'Bloody' Mary's phantom pregnancies. And they saw the 'crooked carcass' beneath Elizabeth I's carefully applied makeup, gowns and accessories.
It is the accounts of these eyewitnesses, as well as a rich array of other contemporary sources that historian Tracy Borman has examined more closely than ever before. With new insights and discoveries, and in the same way that she brilliantly illuminated the real Thomas Cromwell – The Private Life of the Tudors will reveal previously unexamined details about the characters we think we know so well.'
Further details – Amazon.co.uk
---
30th March 2017 – Elizabeth: The Forgotten Years (paperback) by John Guy
'History has pictured Elizabeth I as Gloriana, an icon of strength and power — and has focused on the early years of her reign. But in 1583, when Elizabeth is fifty, there is relentless plotting among her courtiers — and still to come is the Spanish Armada and the execution of Mary, Queen of Scots. We have not, until now, had the full picture.
This gripping and vivid portrait of her life and times — often told in her own words (and including details such as her love of chess and marzipan) — reveals a woman who was insecure, human ('You know I am no morning woman'), and unpopular even with the men who fought for her. This is the real Elizabeth, for the first time.'
Further details – Amazon.co.uk
---
6th April 2017 – So High a Blood: The Life of Margaret, Countess of Lennox by Morgan Ring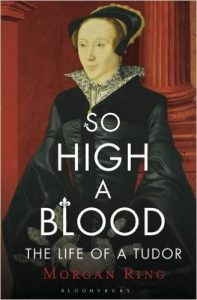 ''Who hopes still constantly with patience shall obtain victory in their claim'
Sometime heir to the English throne, courtier in danger of losing her head, spy-mistress and would-be architect of a united Catholic Britain: Lady Margaret Douglas is the Tudor whose life demands a wider telling.
As niece to Henry VIII and half-sister to James V of Scotland, the beautiful and Catholic Margaret held a unique and precarious position in the English court. Throughout her life, she was to navigate treacherous waters: survival necessitated it. Yet Margaret was no passive pawn or bit-part player. As the Protestant Reformations unfolded across the British Isles and the Tudor monarchs struggled to produce heirs, she had ambitions of her own. She wanted to see her family ruling a united, Catholic Britain. When her niece Mary, Queen of Scots was left a widow, Margaret saw her chance. Through a thoroughly Machiavellian combination of timing, networking and family connections, she set in motion a chain of shattering events that would one day see her descendants succeed to the crowns of England, Ireland and Scotland.
Morgan Ring has revived the story of Lady Margaret Douglas to vivid and captivating effect. From a richly detailed backdrop of political and religious turbulence Margaret emerges, full of resilience, grace and intelligence. Drawing on previously unexamined archival sources, So High a Blood presents a fascinating and authoritative portrait of a woman with the greatest of ambitions for her family, her faith and her countries.'
Further details – Amazon.co.uk
---
12th April 2017 – Queen of Martyrs: The Story of Mary I (Plantagenet Embers Book 3) by Samantha Wilcoxson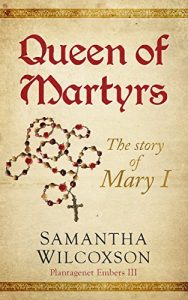 'God save the Queen! God save our good Queen Mary!'
When these words rang out over England, Mary Tudor thought her troubles were over. She could put her painful past – the loss of her mother and mistreatment at the hands of her father – behind her.
With her accession to the throne, Mary set out to restore Catholicism in England and find the love of a husband that she had long desired. But the tragedies in Mary's life were far from over. How did a gentle, pious woman become known as 'Bloody Mary'?'
Further details – Samantha Wilcoxson
Further details – Amazon.co.uk
---
15 April 2017– Arbella Stuart: The Uncrowned Queen by Jill Armitage
'In 1562, Elizabeth I, the last of Henry VIII's children, lay dying of smallpox, and the curse of the Tudor succession again reared its head. The queen was to recover, but the issue remained: if the queen did not produce an heir, who was next in line to succeed?
Enter Lady Arbella Stuart, cousin to both the English queen and James VI of Scotland, a woman whose parents' marriage had been orchestrated to provide an heir to the English throne. Raised by her formidable grandmother, Bess of Hardwick, Arbella lived her life in Elizabeth's shadow and, unfortunately, at her mercy.
Jill Armitage lovingly revitalises Arbella's tale, focusing on her lineage, her life and her legacy. Through her story we discover a well-born, well-educated woman desperate to control her own fate, but who is ultimately powerless against those in the scheming Tudor court; and we explore the harsh reality that comes from being on the wrong side of the calculated revenge of a jealous queen.'
Further details – Amberley Publishing
Further details – Amazon.co.uk
---
20th April 2017 – The Black Prince of Florence: The Spectacular Life and Treacherous World of Alessandro de' Medici (paperback) by Catherine Fletcher
'In The Black Prince of Florence, a dramatic tale of assassination, spies and betrayal, the first retelling of Alessandro's life in two-hundred years opens a window onto the opulent, cut-throat world of Renaissance Italy.
The year is 1531. After years of brutal war and political intrigue, the bastard son of a Medici Duke and a 'half-negro' maidservant rides into Florence. Within a year, he rules the city as its Prince. Backed by the Pope and his future father-in-law the Holy Roman Emperor, the nineteen-year-old Alessandro faces down bloody family rivalry and the scheming hostility of Italy's oligarchs to reassert the Medicis' faltering grip on the turbulent city-state. Six years later, as he awaits an adulterous liaison, he will be murdered by his cousin in another man's bed.
From dazzling palaces and Tuscan villas to the treacherous backstreets of Florence and the corridors of papal power, the story of Alessandro's spectacular rise, magnificent reign and violent demise takes us deep beneath the surface of power in Renaissance Italy – a glamorous but deadly realm of spies, betrayal and vendetta, illicit sex and fabulous displays of wealth, where the colour of one's skin meant little but the strength of one's allegiances meant everything.'
Further details – Amazon.co.uk
---
20th April 2017 – Katherine Howard: The Tragic Story of Henry VIII's Fifth Queen (paperback) by Josephine Wilkinson
'Looming out of the encroaching darkness of the February evening was London Bridge, still ornamented with the severed heads of Thomas Culpeper and Francis Dereham; the terrible price they had paid for suspected intimacy with the queen.
Katherine now reached the Tower of London, her final destination.
Katherine Howard was the fifth wife of Henry VIII and cousin to the executed Anne Boleyn. She first came to court as a young girl of fourteen, but even prior to that her fate had been sealed and she was doomed to die. She was beheaded in 1542 for crimes of adultery and treason, in one of the most sensational scandals of the Tudor age.
The traditional story of Henry VIII's fifth queen dwells on her sexual exploits before she married the king, and her execution is seen as her just dessert for having led an abominable life. However, the true story of Katherine Howard could not be more different.
Far from being a dark tale of court factionalism and conspiracy, Katherine's story is one of child abuse, family ambition, religious conflict and political and sexual intrigue. It is also a tragic love story. A bright, kind and intelligent young woman, Katherine was fond of clothes and dancing, yet she also had a strong sense of duty and tried to be a good wife to Henry. She handled herself with grace and queenly dignity to the end, even as the barge carrying her on her final journey drew up at the Tower of London, where she was to be executed for high treason.
Little more than a child in a man's world, she was the tragic victim of those who held positions of authority over her, and from whose influence she was never able to escape.'
Further details – Amazon.co.uk
---
28th April 2017 – Catherine of Braganza: Charles II's Restoration Queen by Sarah-Beth Watkins
'Catherine of Braganza, a Portuguese princess, married Charles II in 1662 and became the merry monarch's Restoration queen. Yet life for her was not so merry – she put up with the king's many mistresses and continuous plots to remove her from the throne. She lived through times of war, plague and fire. Catherine's marriage saw many trials and tribulations including her inability to produce an heir. Yet Charles supported his queen throughout the Restoration, remaining devoted to her no matter what. Outliving her husband, she ended up back in her home country and spent her final days as queen-regent of Portugal.'
Further details – Chronos Books
Further details – Amazon.co.uk
---
4th May 2017 – The Lives of Tudor Women (paper back) by Elizabeth Norton
'The turbulent Tudor age never fails to capture the imagination. But what was it actually like to be a woman during this period? This was a time when death in infancy or during childbirth was rife; when marriage was usually a legal contract, not a matter for love, and the education of women was minimal at best. Yet the Tudor century was also dominated by powerful and characterful women in a way that no era had been before.
Elizabeth Norton explores the seven ages of the Tudor woman, from childhood to old age, through the diverging examples of women such as Elizabeth Tudor, Henry VIII's sister who died in infancy; Cecily Burbage, Elizabeth's wet nurse; Mary Howard, widowed but influential at court; Elizabeth Boleyn, mother of a controversial queen; and Elizabeth Barton, a peasant girl who would be lauded as a prophetess. Their stories are interwoven with studies of topics ranging from Tudor toys to contraception to witchcraft, painting a portrait of the lives of queens and serving maids, nuns and harlots, widows and chaperones.'
Further details – Head of Zeus
Further details – Amazon.co.uk
---
4th May 2017 – The Prince Who Would Be King by Sarah Fraser
'Henry Stuart's life is last great forgotten Jacobean tale. Shadowed by the gravity of the Thirty Years' War and the huge changes taking place across Europe in seventeenth century society, economy, politics and empire, his life was visually and verbally gorgeous.
Charismatic, gifted, dynamic – dead at only eighteen years old, on the point of succeeding to the throne.
In 1610, Henry Stuart was a celebrity throughout Europe, at a momentous period for European history and culture. Eldest son of James VI and the epitome of heroic Renaissance princely virtue, his life was set against a period about as rich as any. The King James Bible, religious tension throughout Europe, Gunpowder plot, Jacobean theatre and the dark tragedies pouring from Shakespeare's quill, innovation in learning and science, exploration and trade – as well and the bloody traumas of the Thirty Years War were his backdrop. The Lost Prince tells the life story of the prince, now completely forgotten, who might have saved us from King Charles I, his spaniels and the civil war his misrule engendered.'
Further details – Amazon.co.uk
---
11th May 2017– Tudor Monarchs: Lives in Letters by Andrea Clarke
'The Tudor period (1485-1603) was one of the most tumultuous and transformative eras in English history. It was period of drama and intrigue, as well as great triumphs and progress, such as Henry VIII's Reformation and the defeat of the Spanish Armada. It saw the emergence of an English national identity and the beginnings of a British Empire. Four hundred years after the Tudor era ended with the death of Elizabeth I, this extraordinary period still fascinates and captures the public imagination like no other. The Tudor kings and queens – pious and conservative Henry VII, the tyrannical Henry VIII and his six wives, 'Bloody Mary', Edward the boy-King, and the virgin queen Elizabeth – remain the most well-known and fascinating English dynasty.The Tudor period is also the first in English history to be so thoroughly documented in manuscripts, letters and documents, of which the British Library holds an incredibly rich and important collection. This book contains the most significant examples, paired with concise commentaries, to illustrate the lives and personalities of the five Tudor monarchs, as well as the most important events of their reigns.'
Further details – Amazon.co.uk
---
1st June – Long Live the King: The Mysterious Fate of Edward II by Kathryn Warner
'History tells us that Edward II died at Berkeley Castle in 1327 in agony, with a red-hot poker inserted inside him. This is one of the most famous and lurid tales in all of English history. But is it true? Much evidence exists to suggest that Edward did not die at Berkeley Castle at all, but was still alive years after his supposed death. Many influential people believed that he was alive and acted on their belief, including several earls, the Archbishop of York, the Bishop and Mayor of London, the Italian Bishop of Vercelli, and numerous lords and sheriffs. In Long Live the King, medieval historian Kathryn Warner explores in detail Edward's downfall and forced abdication in 1326/27, the role played in it by his wife Isabella of France, the wide variation in chronicled accounts of his murder at Berkeley Castle, and the fascinating possibility that Edward was alive in Italy many years after his official funeral was held in Gloucester in December 1327.'
Further details – Amazon.co.uk
---
15th June 2017 – Prince Arthur: The Tudor King Who Never Was (paperback) by Sean Cunningham
'During the early part of the sixteenth century England should have been ruled by King Arthur Tudor, not Henry VIII. Had the first-born son of Henry VII lived into adulthood, his younger brother Henry would never have become King Henry VIII. The subsequent history of England would have been very different; the massive religious, social and political changes of Henry VIII's reign might not have been necessary at all.
In naming his eldest son Arthur, Henry VII was making an impressive statement about what the Tudors hoped to achieve as rulers within Britain. Since the story of Arthur as a British hero was very well known to all ranks of the Crown's subjects, the name alone gave the young prince a great deal to live up to. Arthur's education and exposure to power and responsibility, not to mention his marriage to a Spanish princess in Catherine of Aragon, all indicate that the young prince was being shaped into a paragon of kingship that all of Britain could admire.
This book explores all of these aspects of Prince Arthur's life, together with his relationship with his brother, and assesses what type of king he would have been.'
Further details – Amazon.co.uk
---
6th July – Crown of Blood: The Deadly Inheritance of Lady Jane Grey by Nicola Tallis (paperback)
'Good people, I am come hither to die, and by a law I am condemned to the same.
These were the words uttered by the seventeen-year-old Lady Jane Grey as she stood on the scaffold awaiting death on a cold February morning in 1554. Forced onto the throne by the great power players at court, Queen Jane reigned for just thirteen tumultuous days before being imprisoned in the Tower, condemned for high treason and executed.
In this dramatic retelling of an often misread tale, historian and researcher Nicola Tallis explores a range of evidence that has never before been used in a biography to sweep away the many myths and reveal the moving, human story of an extraordinarily intelligent, independent and courageous young woman.'
Further details – Michael O'Mara Books
Further details – Amazon.co.uk
---
13th July 2017 – Cecily Duchess of York by J L Laynesmith
'This is the first scholarly biography of Cecily Neville, duchess of York, the mother of Edward IV and Richard III. She was said to have ruled Edward IV 'as she pleased' and Richard III made his bid for the throne from her home. Yet Cecily has been a shadowy figure in modern histories, noted primarily for her ostentatious piety, her expensive dresses, and the rumours of her adultery.
Here J. L. Laynesmith draws on a wealth of rarely considered sources to construct a fresh and revealing portrait of a remarkable woman. Cecily was the only major protagonist to live right through the Wars of the Roses. This book sheds new light on that bloody conflict in which Cecily proved herself an exceptional political survivor. Skilfully manipulating her family connections and contemporary ideas about womanhood, Cecily repeatedly reinvented herself to protect her own status and to ensure the security of those in her care.
From her childhood marriage to Richard duke of York until her final decade as grandmother of the first Tudor queen, the story of Cecily Neville's life provides a rich insight into national and local politics, women's power and relationships, motherhood, household dynamics and the role of religion in fifteenth-century England.'
Further details – Amazon.co.uk
---
15th July 2017 – In the Footsteps of the Six Wives of Henry VIII: The visitor's companion to the palaces, castles & houses associated with Henry VIII's iconic queens (paperback) by Sarah Morris and Natalie Grueninger
'This book provides a fresh perspective on the lives of Henry VIII's six wives by embarking on a journey through the manors, castles and palaces in which their lives were played out. This journey traces their steps to the Alhambra in Spain, childhood home of Katherine of Aragon; to the very room at Acton Court where Anne Boleyn and Henry VIII publicly dined; through the cobbled grounds of Hampton Court Palace, which bore witness to both triumph and tragedy for Jane Seymour; into the streets of Düsseldorf in Germany, birthplace of Anne of Cleves; among the ruins and picturesque gardens of St Mary's Abbey in York where Catherine Howard and Henry VIII rested at the pinnacle of the 1541 progress; and to Gainsborough Old Hall in Lincolnshire, where Katherine Parr lived as daughter-in-law of the irascible Sir Thomas Brough.
Each location is described in a fascinating narrative that unearths the queens' lives in documents and artefacts, as well as providing practical visitor information based on the authors' first-hand knowledge of each site. Accompanied by an extensive range of images including timelines, maps, photographs and sketches, this book brings us closer than ever to the women behind the legends, providing a personal and illuminating journey in the footsteps of the six wives of Henry VIII.'
Further details – Amazon.co.uk
---
15th July 2017 – Owen Tudor: Founding Father of the Tudor Dynasty by Terry Breverton
'For generations, the ancestors of Welshmen Owen Tudor had fought Romans, Irish Picts, Vikings, Saxons, Mercians and Normans. His uncles had been executed in the Glyndwr Welsh War of Independence, his father pardoned, but his estates stripped from him. Owen's now landless father took him to London to try and find employment, and Owen fought for Henry V in France. He entered the service of Henry's queen, Catherine of Valois, and soon after the king's death he secretly married her, the mother of the 8-month-old Henry VI. Owen and Catherine would have two boys together, hidden from the world and the boy-king Henry VI by the Bishops of London and Ely. Henry VI would go on to ennoble them as Edmund Earl of Richmond, and Jasper Earl of Pembroke, but upon Catherine's death Owen was imprisoned. Escaping twice, Owen was thrown into the beginnings of the Wars of the Roses with his two sons. Edmund died in Wales, and Jasper became the only lord who fought throughout the civil wars until his nephew, Edmund's son Henry Tudor, was established on the English throne as Henry VII. When Jasper led the Lancastrian forces at Mortimer's Cross in 1461, the aging Owen led a wing of the defeated army, was captured and executed. Without the secret marriage for love, there would have been no Tudor dynasty.'
Further details – Amazon.co.uk
---
1st August 2017 – The Lost Kings: Lancaster, York and Tudor by Amy Licence
'The century spanning the wars of the roses and the reigns of the Tudor kings was a volatile time of battle and bloodshed, execution and unexpected illness. Life could be nasty, brutish and short. Some met their end in battle, others were dragged to the block, losing everything for daring to aspire to the throne. Some were lost in mysterious circumstances, like Edward V, the elder of the Princes in the Tower. But the majority of these young men died in their teens, on the brink of manhood. They represent the lost paths of history, the fascinating "what-ifs" of the houses of York and Tudor. They also diverted the route of dynastic inheritance, with all the complicated implications that could bring, passing power into some unlikely hands. This book examines ten such figures in detail, using their lives to build a narrative of this savage century.'
Further details – The History Press
---
7th August 2017 – Discovering Tudor London: A Journey Back in Time by Natalie Grueninger (paper back)
'This engaging and practical travel guide takes you on a journey through the best of Tudor London, to sites built and associated with this fascinating dynasty, and to the museums and galleries that house tantalising treasures from this rich period of history. Join the author as she explores evocative historical sites, including the magnificent great hall of Eltham Palace, the most substantial surviving remnant of the medieval palace where Henry VIII spent time as a child, and the lesser-known delights of St Helen's Church, dubbed the 'Westminster Abbey of the City' for its impressive collection of Tudor monuments. A range of photographs, maps and visitor information, together with an informative narrative, bring the most intriguing personalities and stories of the thirty plus sites across Greater London vividly to life. This a must have companion for both those planning their own 'Tudor pilgrimage' and for the armchair traveller alike.'
---
8th August – The Last Tudor by Philippa Gregory
''How long do I have?' I force a laugh.
'Not long,' he says very quietly. 'They have confirmed your sentence of death. You are to be beheaded tomorrow. We don't have long at all.'
Seventeen-year-old Jane Grey was queen of England for nine days. Using her position as cousin to the deceased king, her father and his conspirators put her on the throne ahead of the king's half-sister Mary, who quickly mustered an army, claimed her crown and locked Jane in the Tower. When Jane refused to betray her Protestant faith, Mary sent her to the executioner's block. There Jane turned her father's greedy, failed grab for power into her own brave and tragic martyrdom.
'Learn you to die' is the advice that Jane gives in a letter to her younger sister Katherine, who has no intention of dying. She intends to enjoy her beauty and her youth and find love. But her lineage makes her a threat to the insecure and infertile Queen Mary and, when Mary dies, to her sister Queen Elizabeth, who will never allow Katherine to marry and produce a potential royal heir before she does. So when Katherine's secret marriage is revealed by her pregnancy, she too must go to the Tower.
'Farewell, my sister,' writes Katherine to the youngest Grey sister, Mary. A beautiful dwarf, disregarded by the court, Mary finds it easy to keep secrets, especially her own, while avoiding Elizabeth's suspicious glare. After watching her sisters defy the queen, Mary is aware of her own perilous position as a possible heir to the throne. But she is determined to command her own destiny and be the last Tudor to risk her life in matching wits with her ruthless and unforgiving cousin Elizabeth.'
Further details – Philippa Gregory
Further details – Simon and Schuster UK
Further details – Amazon.co.uk
---
15th August 2017 – The Wars of the Roses in 100 Facts by Matthew Lewis
'The Wars of the Roses were a series of brutal conflicts between rival branches of the Plantagenet family – the Lancastrians and the Yorkists. The wars were fought between the descendants of Edward III and are believed to stem from the deposition of the unpopular Richard II by his cousin, Henry Bolingbroke who became Henry IV. The wars were thought to have been fought between 1455 and 1487, and they saw many kings rise and fall as their supporters fought for their right to rule.'
Further details – Amazon.co.uk
---
4th September 2017 – The Queen's Mary: In the Shadows of Power by Sarah Gristwood
'In 1548 four little girls, all called Mary, set sail from Scotland for France. Five years old, they are already primed for the work of their lifetime – to serve another little girl called Mary. Mary, Queen of Scots.
Thirteen years later, the five return to an unwelcoming Scotland, and as Queen Mary struggles to take control of her turbulent country, her famous 'Four Marys' are at her side.
The queen finds herself set on the path of violence and disaster which will lead eventually to her tragic end. But what of the other four Marys, bound inexorably to their mistress' fate?
Of the four, it is Mary Seton who serves the queen longest, and whose loyalty is most severely tested. Through a maze of shadows – of treachery and even witchcraft – how can she find her own way ahead?'
Further details – Sarah Gristwood.com
---
7th September 2017 – The Survival of the Princes in the Tower: Murder, Mystery and Myth by Matthew Lewis
'The murder of the Princes in the Tower is the most famous cold case in English or British history. Traditionally considered victims of a ruthless uncle, there are other suspects too often and too easily discounted. There may be no definitive answer, but by delving into the context of their disappearance and the characters of the suspects Matthew Lewis will examine the motives and opportunities afresh as well as ask a crucial but often overlooked question: what if there was no murder? What if Edward V and his brother Richard, Duke of York survived their uncle's reign and even that of their brother-in-law Henry VII? There are glimpses of their possible survival and compelling evidence to give weight to those glimpses which is considered alongside the possibility of their deaths to provide a rounded and complete assessment of the most fascinating mystery in history.'
Further details – Matt's History Blog
Further details – Amazon.co.uk
---
15th September – The King's Pearl: Henry VIII and His Daughter Mary by Melita Thomas
'Mary Tudor has always been known as 'Bloody Mary', the name given to her by later Protestant writers who vilified her for attempting to re-impose Roman Catholicism in England. Although a more nuanced picture of Mary has since emerged, she is still surrounded by stereotypes, depicted as a tragic and lonely figure, personally and politically isolated after the annulment of her parents' marriage and rescued from obscurity only through the good offices of Katherine Parr.
Although Henry doted on Mary as a child and called her his 'pearl of the world', her determination to side with her mother over the annulment both hurt him as a father and damaged perceptions of him as a monarch commanding unhesitating obedience. However, once Mary had been pressured into compliance Henry reverted to being a loving father and Mary played an important role in court life. The King's Pearl will re-examine Mary's life during the reign of Henry VIII and her relationship with her father.'
Further details – Amberley Publishing
Further details – Amazon.co.uk
---
21st September 2017- Richard III: Brother, Protector, King by Chris Skidmore
'The last Plantagenet king remains one of England's most famous and controversial monarchs. There are few parallels in English history that can match the drama of Richard III's reign, witnessed in its full bloody intensity.
A dedicated brother and loyal stalwart to the Yorkist dynasty for most of his early life, Richard's personality was forged in the tribulation of exile and the brutality of combat. An ambitious nobleman and successful general with a loyal following, Richard was a man who could claim to have achieved every ambition in life, except one.
Within months of his brother Edward IV's early death, Richard stunned the nation when he seized the throne for himself and disinherited his nephews. Having put to death his rivals, Richard's two-year reign would become one of the most tumultuous in English history, ending in treachery and with his death on the battlefield at Bosworth.
Chris Skidmore's biography strips back the legends that surround Richard's life and reign, and by returning to original manuscript evidence, he rediscovers the man as contemporaries saw him. Rather than vindicate or condemn, Skidmore's compelling study presents every facet of Richard's personality as it deserves to be seen: as one of the most important figures in medieval history, whose actions and behaviour underline the true nature of power in an age of great drama, upheaval and instability.'
Further details – Amazon.co.uk
---
28th September 2017 – Queens of the Conquest (England's Medieval Queens) by Alison Weir
'The story of England's medieval queens is vivid and stirring, packed with tragedy, high drama and even comedy. It is a chronicle of love, murder, war and betrayal, filled with passion, intrigue and sorrow, peopled by a cast of heroines, villains, stateswomen and lovers. In the first volume of this epic new series, Alison Weir strips away centuries of romantic mythology and prejudice to reveal the lives of England's queens in the century after the Norman Conquest.
Beginning with Matilda of Flanders, who supported William the Conqueror in his invasion of England in 1066, and culminating in the turbulent life of the Empress Maud, who claimed to be queen of England in her own right and fought a bitter war to that end, the five Norman queens emerge as hugely influential figures and fascinating characters.
Much more than a series of individual biographies, Queens of the Conquest is a seamless tale of interconnected lives and a rich portrait of English history in a time of flux. In Alison Weir's hands these five extraordinary women reclaim their rightful roles at the centre of English history.'
From Amazon.co.uk
Further details – Amazon.co.uk
---
30th September 2017 – The Life of Henrietta Anne: Daughter of Charles I by Melanie Clegg
'Henrietta Anne Stuart, youngest child of Charles I and Henrietta Maria, was born in June 1644 in the besieged city of Exeter at the very height of the English Civil War. The hostilities had separated her parents and her mother was on the run from Parliamentary forces when she gave birth with only a few attendants on hand to give her support. Within just a few days she was on her way to the coast for a moonlit escape to her native France, leaving her infant daughter in the hands of trusted supporters. A few years later Henrietta Anne would herself be whisked, disguised as a boy, out of the country and reunited with her mother in France, where she remained for the rest of her life. Henrietta s fortunes dramatically changed for the better when her brother Charles II was restored to the throne in 1660. After being snubbed by her cousin Louis XIV, she would eventually marry his younger brother Philippe, Duc d Orl ans and quickly become one of the luminaries of the French court, although there was a dark side to her rise to power and popularity when she became embroiled in love affairs with her brother in law Louis and her husband s former lover, the dashing Comte de Guiche, giving rise to several scandals and rumours about the true parentage of her three children. However, Henrietta Anne was much more than just a mere court butterfly, she also possessed considerable intelligence, wit and political acumen, which led to her being entrusted in 1670 with the delicate negotiations for the Secret Treaty between her brother Charles II and cousin Louis XIV, which ensured England s support of France in their war against the Dutch.'
Further details – Amazon.co.uk
---
5th October 2017 – The Medici by Mary Hollingsworth
'Having founded the bank that became the most powerful in Europe in the 15th century, the Medici gained political power in Florence, ruling the city during its cultural heyday and becoming its hereditary dukes. Among their number were no fewer than three popes, and a powerful and influential queen of France. Their patronage of the arts facilitated an explosion of Florentine art and architecture. Michelangelo, Donatello, Fra Angelico and Leonardo da Vinci are among the artists with which they were associated.
Thus runs the 'received view' of the Medici dukes of Florence. Mary Hollingsworth argues that this sanitized version – that they were wise rulers and enlightened patrons of the arts, fathers of the Renaissance – is a fiction devised by later generations who reinvented their past to create a myth that now has the status of historical fact. In truth, the Medici were as devious and immoral as the infamous Borgias, tyrants loathed in the city they illegally made their own and which they beggared in their lust for power.'
Further details – Amazon.co.uk
---
15th October 2017 – Catherine of Aragon: An Intimate Life of Henry VIII's True Wife (paperback) by Amy Licence
'Catherine of Aragon continues to fascinate readers 500 years after she became Henry VIII's first queen. Her life was one of passion and determination, of suffering and hope, but ultimately it is a tragic love story, as circumstances conspired against her. Having lost her first husband, Henry's elder brother Prince Arthur, she endured years of ill health and penury, to make a dazzling second match in Henry VIII. There is no doubt that she was Henry's true love, compatible with him in every respect and, for years, she presided over a majestic court as the personification of his ideal woman.
However, Catherine's body failed her in an age when fertility was a prerequisite of political stability. When it became clear that she could no longer bear children, the king's attention turned elsewhere, and his once chivalric devotion became resentment. Catherine's final years were spent in lonely isolation but she never gave up her vision: she was devoted to her faith, her husband and to England, to the extent that she was prepared to be martyred for them. Banished and close to death, she wrote a final letter to her 'most dear lord and husband'. 'I pardon you everything… mine eyes desire you above all things.' The fidelity of this remarkable woman never wavered.'
Further details – Amazon.co.uk
---
27th October 2017 – Elizabeth of York and Her Six Daughters-in-Law: Fashioning Tudor Queenship, 1485-1547 (Queenship and Power) by Retha M Warnicke
'This study of early modern queenship compares the reign of Henry VII's queen, Elizabeth of York, and those of her daughters-in-law, the six queens of Henry VIII. It defines the traditional expectations for effective Tudor queens―particularly the queen's critical function of producing an heir―and evaluates them within that framework, before moving to consider their other contributions to the well-being of the court. This fresh comparative approach emphasizes spheres of influence rather than chronology, finding surprising juxtapositions between the various queens' experiences as mothers, diplomats, participants in secular and religious rituals, domestic managers, and more. More than a series of biographies of individual queens, Elizabeth of York and Her Six Daughters-in-Law is a careful, illuminating examination of the nature of Tudor queenship.'
Further details – Palgrave Macmillan
Further details – Amazon.co.uk
---
2nd November 2017 – Elizabeth's Rival: The Tumultuous Tale of Lettice Knollys, Countess of Leicesterby Nicola Tallis
'Cousin to Elizabeth I (although it's likely that they were far closer than that) and grandniece to Anne Boleyn, Lettice Knollys was destined to be a prominent figure at court.
But her life would be one of dizzying highs and pitiful lows – caught in a love triangle with Robert Dudley and Elizabeth I, banished from court, embroiled in treason, losing a husband to the executioner's axe and further husbands and children to war and sickness.
At different times Countess of Essex and Countess of Leicester, Lettice lived from the reign of Henry VIII through to Charles I, her story offering an extraordinary and intimate perspective on the history of the period.'
Further details – Michael O'Mara Books
Further details – Amazon.co.uk
---
7th November 2017 – Game of Queens: The Women Who Made Sixteenth-Century Europe (paperback) by Sarah Gristwood
'Sixteenth-century Europe saw an explosion of female rule. From Isabella of Castile, and her granddaughter Mary Tudor, to Catherine de Medici, Anne Boleyn, and Elizabeth Tudor, these women wielded enormous power over their territories, shaping the course of European history for over a century. Across boundaries and generations, these royal women were mothers and daughters, mentors and protegees, allies and enemies. For the first time, Europe saw a sisterhood of queens who would not be equaled until modern times.
A fascinating group biography and a thrilling political epic, Game of Queens explores the lives of some of the most beloved (and reviled) queens in history.'
Further information – Sarah Gristwood
Further information – Amazon.co.uk
---
15th November 2017 – Anne Boleyn: Adultery, Heresy, Desire by Amy Licence
'Anne Boleyn, the femme fatale whose unconventional beauty inspired poets, and so entranced Henry VIII with her wit, allure and style that he was prepared to set aside his wife of over twenty years and risk his immortal soul. Her sister had already been the king's mistress, but the other Boleyn girl was to choose another path. For years the passionate lovers waited; did they really remain chaste? Did Anne love Henry, or was she a cunning career woman?'
Further details – Amazon.co.uk
---
24th November 2017 – Unexpected Heirs in Early Modern Europe: Potential Kings and Queens (Queenship and Power) by Valerie Schutte
'There were many surprising accessions in the early modern period, including Mary I of England, Henry III of France, Anne Stuart, and others, but this is the first book dedicated solely to evaluating their lives and the repercussions of their reigns. By comparing a variety of such unexpected heirs, this engaging history offers a richer portrait of early modern monarchy. It shows that the need for heirs and the acquisition and preparation of heirs had a critical impact on sixteenth- and seventeenth-century culture and politics, from the appropriation of culture to the influence of language, to trade and political alliances. It also shows that securing a dynasty relied on more than just political agreements and giving birth to legitimate sons, examining how relationships between women could and did forge alliances and dynastic continuities.'
Further details – Palgrave Macmillan
Further details – Amazon.co.uk
---
8th December 2017 – Margaret Tudor, Queen of Scots: The Life of King Henry VIIIs Sister by Sarah-Beth Watkins (paper back)
'Margaret Tudor was Henry VIII's older sister and became the Queen of Scotland after her marriage to James IV in 1503. Her life was troubled and fraught with tension. She was continually caught between her country of birth and the country she ruled. After James IVs death, she made the disastrous decision to marry the Earl of Angus, threatening her regency and forcing the Scottish council to send for the Duke of Albany to rule in her stead. Over the years, Margarets allegiance swung between England and Scotland, making her brother Henry VIII both her ally and her enemy at times. Although Margaret wished for peace between the two countries, these were tumultuous years and she didnt always make the wisest choices. Yet, all she did she did for her son James V, and her absolute conviction he would rule Scotland as its rightful king.'
Further details – Amazon.co.uk
---
12th December 2017 – Crown of Blood: The Deadly Inheritance of Lady Jane Grey (paper back) by Nicola Tallis
'"Good people, I am come hither to die, and by a law I am condemned to the same." These were the heartbreaking words of a seventeen-year-old girl, Lady Jane Grey, as she stood on the scaffold awaiting death on a cold February morning in 1554. Minutes later her head was struck from her body with a single stroke of a heavy axe. Her death for high treason sent shockwaves through the Tudor world, and served as a gruesome reminder to all who aspired to a crown that the axe could fall at any time.
Jane is known to history as "the Nine Days Queen," but her reign lasted, in fact, for thirteen days. The human and emotional aspects of her story have often been ignored, although she is remembered as one of the Tudor Era's most tragic victims. While this is doubtlessly true, it is only part of the complex jigsaw of Jane's story. She was a remarkable individual with a charismatic personality who earned the admiration and affection of many of those who knew her. All were impressed by her wit, passion, intelligence, and determined spirit. Furthermore, the recent trend of trying to highlight her achievements and her religious faith has, in fact, further obscured the real Jane, a young religious radical who saw herself as an advocate of the reformed faith―Protestantism―and ultimately became a martyr for it.
Crown of Blood is an important and significant retelling of an often-misunderstood tale: set at the time of Jane's downfall and following her journey through to her trial and execution, each chapter moves between the past and the "present," using a rich abundance of primary source material (some of which has never been published) in order to paint a vivid picture of Jane's short and turbulent life. This dramatic narrative traces the dangerous plots and web of deadly intrigue in which Jane became involuntarily tangled―and which ultimately led to a shocking and catastrophic conclusion.'
Further details – Pegasus Books
---
15th December 2017 – Four Queens and a Countess: Elizabeth I, Mary Tudor, Lady Jane Grey, Mary Queen of Scots and Bess of Hardwick: The Struggle for the Crown by Jill Armitage
'When Mary Stuart was forced off the Scottish throne she fled to England, a move that made her cousin Queen Elizabeth very uneasy. Elizabeth had continued the religious changes made by her father and England was a Protestant country, yet ardent Catholics plotted to depose Elizabeth and put Mary Stuart on the English throne.
So what was Queen Elizabeth going to do with a kingdomless queen likely to take hers?
She had her placed under house arrest with her old friend Bess of Hardwick, then married to her fourth husband, the wealthy and influential Earl of Shrewsbury. The charismatic Scotswoman was treated more like a dowager queen than a prisoner and enjoyed the Shrewsbury's affluent lifestyle until Bess suspected Mary of seducing her husband. Played against the never-ending threat of a Catholic uprising, for sixteen years Bess was forced to accommodate Mary and her entourage at enormous cost to both her finances and her marriage. So it was just as well that Bess was the second-richest woman in the kingdom! Bess had also known the doomed Jane Grey and Mary Tudor, Queen of France. Bess had been in service in the Grey household and companion to the infant Jane. Mary Tudor had been godmother to Bess's fifth child.
Four Queens and a Countess delves deep into the relationships of these women with their insurmountable differences, the way they tried to accommodate them and the lasting legacy this has left. The clash of personalities and its deadly political background have never been examined in detail before.'
Further details – Amazon.co.uk