Professor Eric Ives writes the following about the authenticity of Jane's letters.
'Authenticity is even more important when it comes to Jane's letters. Some are unquestionably by her. There is an early letter thanking Thomas Seymour, Lord Sudeley, and three Latin letters forwarded by third parties to Henry Bullinger at Zurich. Then there is a letter to her father and a message to Sir John Brydges, the lieutenant of the Tower, in Jane's own handwriting on the margins of the prayer book that she carried to her execution.' (p1, Ives)
Ives suggests that '…it could be that in the final days the security around her tightened and she was denied paper to write on. Certainly her final message to her father had to be written in the prayer book she was to carry to the scaffold, and to get that to Suffolk clearly required the collaboration of Sir John Brydges, the lieutenant of Tower. Soldier and courtier though Brydges was, and 'much addicted to the old religion', in the months Jane had been his responsibility the sixty-one-year old had become fond of his remarkable prisoner. He agreed to show the duke her message, but asked if he could himself retain the book as a memento.' (p.273, Ives).
Prayer book message to Sir John Brydges
'Forasmuche as you haue desired so simple a woman to wrighte in so worthy a booke, gode mayster Lieufenante therefore I shalle as a frende desyre you, and as a christian require you, to call vpyon God, to encline youre harte to his laws, to quicken you in his waye, and not to take the worde of trewethe vtterlye oute of youre mouthe. Lyue styll to dye, that by deathe you may purchase eternall life; and remember howe the ende of Mathusael, whoe as we reade in the scriptures, was the longest liuer that was of a manne, died at the laste. For, as the Precher sayethe, there is a tyme to be borne, and a tyme to dye; and the daye of deathe is better than the daye of our birthe. Youres, as the Lorde knowethe, as a frende, Jane Duddeley'. (p.58-59 Nicolas)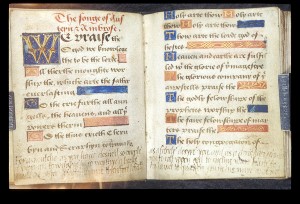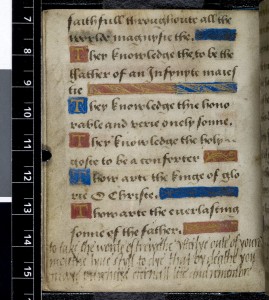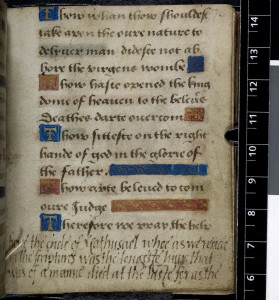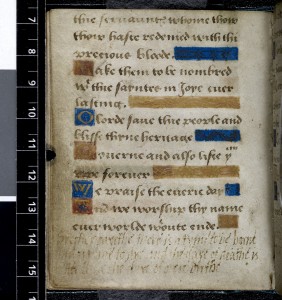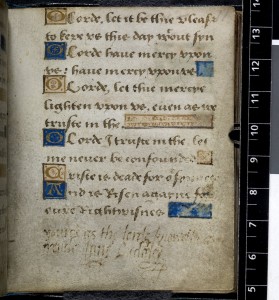 F. 75v, 76, 76v, 77. From The British Library.
Sources
Ives, E. (2009) Lady Jane Grey: A Tudor Mystery, Wiley-Blackwell.
Nicolas, N.H Harding, The Literary Remains of Lady Jane Grey: With a Memoir of Her Life, Triphook & Lepard.