Professor Eric Ives writes the following about the authenticity of Jane's letters.
'Authenticity is even more important when it comes to Jane's letters. Some are unquestionably by her. There is an early letter thanking Thomas Seymour, Lord Sudeley, and three Latin letters forwarded by third parties to Henry Bullinger at Zurich. Then there is a letter to her father and a message to Sir John Brydges, the lieutenant of the Tower, in Jane's own handwriting on the margins of the prayer book that she carried to her execution. (p1, Ives)
Ives suggests that '…it could be that in the final days the security around her tightened and she was denied paper to write on. Certainly her final message to her father had to be written in the prayer book she was to carry to the scaffold, and to get that to Suffolk clearly required the collaboration of Sir John Brydges, the lieutenant of the Tower.' (p.273)
Ives describes the message 'as positive and redolent of the faith they shared' (p.273, Ives) and that it was probably written after the Duke of Suffolk arrived at the Tower under arrest on the 10th or 11th February 1554.
Prayer book message to Father
'The Lorde comforte your grace, and that in his worde whearein all creatures onlye are to be comforted. And thoughe it hath pleased God to take awaye 2 of your children: yet thincke not, I most humblye beseech youre grace, that you haue loste them; but truste that we, by leafinge this mortall life, haue wunne an immortal life. And I, for my parte, as I haue honoured your grace in this life, wyll praye for you in another life. Youre gracys humble daughter, Jane Duddley.' (p.57-58, Nicolas)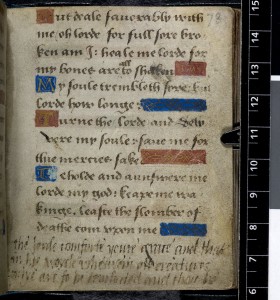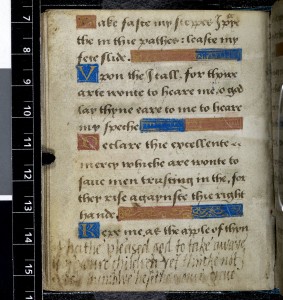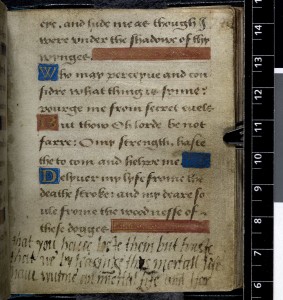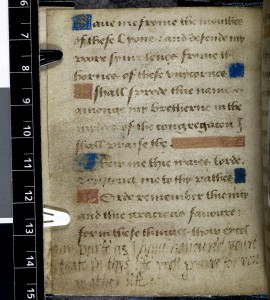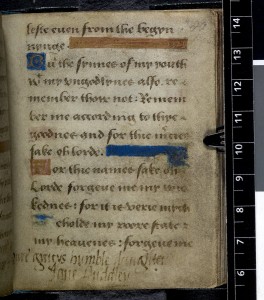 F.78, 78c, 79, 79v and 80. From The British Library.
Sources
Ives, E. (2009) Lady Jane Grey: A Tudor Mystery, Wiley-Blackwell.
Nicolas, N.H Harding, The Literary Remains of Lady Jane Grey: With a Memoir of Her Life, Triphook & Lepard.