To celebrate 20 years of my website, I am running a 9 Day Giveaway on key dates throughout the year that relate to Lady Jane.
On day 6 of the giveaway you can win a Lady Jane Grey Christmas tree ornament by Of Kings and Queens in a world-wide giveaway!
This competition should have been held on July 19th to mark the anniversary of the end of the reign of Queen Jane.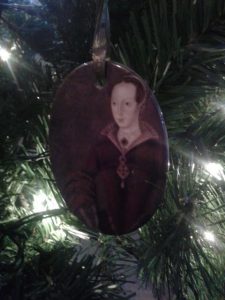 To enter the competition
Email me at Ljgcompetition at yahoo.co.uk. Replace 'at' with @. Put Day 6 in the Subject line.
The competition ends at midnight (UK time) on Thursday 16th August.
The winner will be selected at random.
Good luck!