On 25th May 1553, Jane Grey married Guildford Dudley at Durham House on the Strand.
It was a triple wedding with Katherine Grey marrying Henry Herbert and Catherine Dudley marrying Henry Hastings.
The wedding has featured in a number of historical novels.
In Innocent Traitor by Alison Weir, the wedding is seen from Jane's point of view.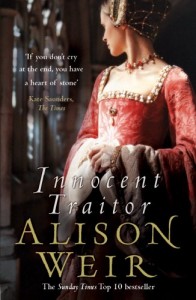 'The weight of my gown and train, made of gold and silver brocade and embroidered with hundreds of tiny diamonds and seed pearls, obliges me to walk in slow and stately fashion through the panelled rooms and galleries of Durham House, a royal property on the Strand, once the London residence of the bishops of Durham. My wedding is to be celebrated in the chapel here.
…The ancient walls of Durham House have been hung with magnificent new tapestries, its flagstones covered with Turkish carpets, and its mullioned windows and arched doorways swathed in swags of gold and silver tissue.
…As I am borne on my father's arm into the chapel, the whole privy council of England rises to its feet. Northumberland is there, garbed in his customary black, and Guilford awaits me at the altar rails, a tall, resplendent figure in white satin, his fair hair flopping over his blue eyes.
This should have been a joyful occasion, the fulfilment of my hopes and dreams, but it is not. Not for me, anyway. I make my vows unthinkingly, not daring to reflect on their deeper meaning, and avoid looking at Guilford when he tries to catch my eye.'
(c) Arrow, p.266-267
---
In A Dangerous Inheritance also by Alison Weir, the wedding is seen from the view point of Katherine Grey.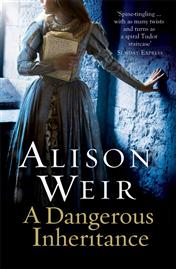 '…for the trumpets are sounding and my lord my father, dazzling in white and gold, is waiting to escort us down the grand processional stair to the splendidly arrayed state apartments, through which we must pass towards the chapel. Durham house, where we have come to be married, is a palatial residence surrounded on the Strand side by a high wall buttressed by marble pillars.
…And as I walk in procession, my hand resting on my father's left arm, with Jane on his other side, through the great chambers of Durham House, I marvel at the magnificent display of King Edward's great bounty: the exquisitely woven tapestries, some of them shimmering with gold thread, the Turkey carpets on floors and tables, the brand new hangings of crimson taffeta. The vast chapel, smelling of old, hallowed stone, is royally adorned too, and I am overawed by the rich jewel colours of the tall stained-glass windows and the altar furnishings…'
(c) Arrow, p.18-19
---
In The Last Tudor by Philippa Gregory, the wedding is seen through Jane's eyes.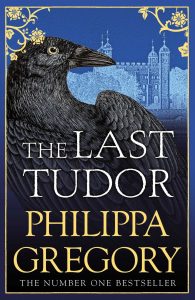 'My sisters are disappointed in the wedding service: they hoped it would be in Latin and filled with ceremonial and incomprehensible oaths, noisy with music and trumpets, drowned in regalia, drenched with holy water, and choking with incense. Instead it has the simple honesty of my religion and I am deeply glad that the Dudleys are a godly family who turned to the reformed religion as soon as the king gave his people the Bible and the preachers spread the word.
…I am not dressed plainly, as a Protestant should dress, despite my declared wishes. I wear royal purple with an overgown of gold brocade embroidered with diamonds and pearls. They spread my chestnut hair over my shoulders and it hangs down below my waist.
… There is dancing and jousting; two companies of masquers: one of men and one of women; there are players and musicians. The Dudleys invite all of their household to attend, and throw open the gates of their great house so that everyone in London can come and see our magnificence.'
(c) Simon & Schuster UK, p.30-31.
---
In Sisters of Treason by E.C Fremantle, Katherine Grey reminisces about her wedding.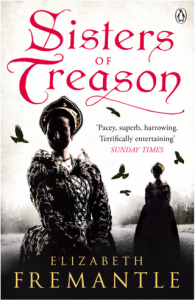 'I was married in this spot exactly,' I say to Jane Dormer.
From the instant I walked into Durham House on the Strand, my mind was flooded with memories of the day, six years ago, that I was wed alongside my sister Jane, and Katherine Dudley too, all of us in borrowed dresses, so hastily had it been organized.
…The chapel smells sweet, the incense seems to have got into the very stones, and I have a vision of my sister murmuring out her vows in a cloud of perfumed smoke, Guildford Dudley taking her right hand and she snatching it back, pressing it up against her left in prayer, eyes firmly shut.'
(c) Penguin, p.184-185
Find out more about the authors and buy their books from Amazon.co.uk:
E C Fremantle
Sisters of Treason
Philippa Gregory
The Last Tudor
Alison Weir
A Dangerous Inheritance
Innocent Traitor